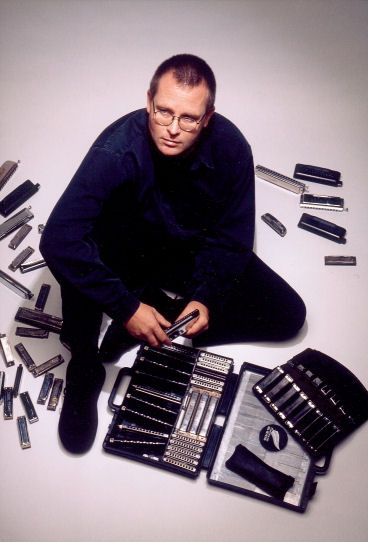 I've invented many harmonica-related features over the years: original tunings, odd sizes, accessories, and even whole new types (you can
read the history of them here
).
From day one I was always a harmonica hacker, using simple old-school tools to create specialised custom harmonicas for my own playing. It was out of necessity, as I found the commercially-available harps just didn't do the things I wanted. After a while my personal harps sparked interest from other players, and I started selling custom-made Power Harps online in 2000.
From 2000-2006 I sold a wide selection of innovative hand-customised chromatic and diatonic harps. Many had never been made before, such as the Power CX-10, CX14 and CX-16, the Trad Session Harps for Celtic music, and my Stretch Harps (extended length diatonics). However, the increasing workload meant I was neglecting playing and recording, so I took a break for a while. In 2012 I started X-Reed Harmonicas with Hungarian designer/engineer Zombor Kovacs, to make the best versions of the new extra-reed concept for harmonicas. We both learned a lot from each other. Zombor's influence led me to teach myself CAD (Computer Aided Design), and it has opened up a new world of sophisticated harmonica hacking! Combing CAD with cool new workshop machines has got me excited again about pushing the envelope of harp performance and design.
The advent of affordable small-scale manufacturing technology like CNC machining and 3D Printing means that inventive ideas can be tested and produced very quickly now, to exacting standards, in any home workshop. Using CAD and this new maker technology I'm currently able to realise some long-cherished dreams of harmonica models that were virtually impossible to make previously. It's such a buzz to design bizarre original combs on screen and then quickly see them come out as solid, usable parts that can be incorporated in harmonicas no-one has ever seen before.
Those available to buy will be added to the Harmonicas section of the website. This page shows off some previous custom harps, as well as odd one-offs that never got released.
---
November 2014 - More photos coming soon!
- Bren
ORIGINAL DOUBLE CHROMATIC
I have been trying to make a DoubleChrom for over 20 years, and have laboriously hand-made several prototypes in that time. Here are some photos of my first one, from 1993/94. The string pull is to allow the player to hold in the master slider with their left (holding) hand, while operating the two secondary sliders with their right.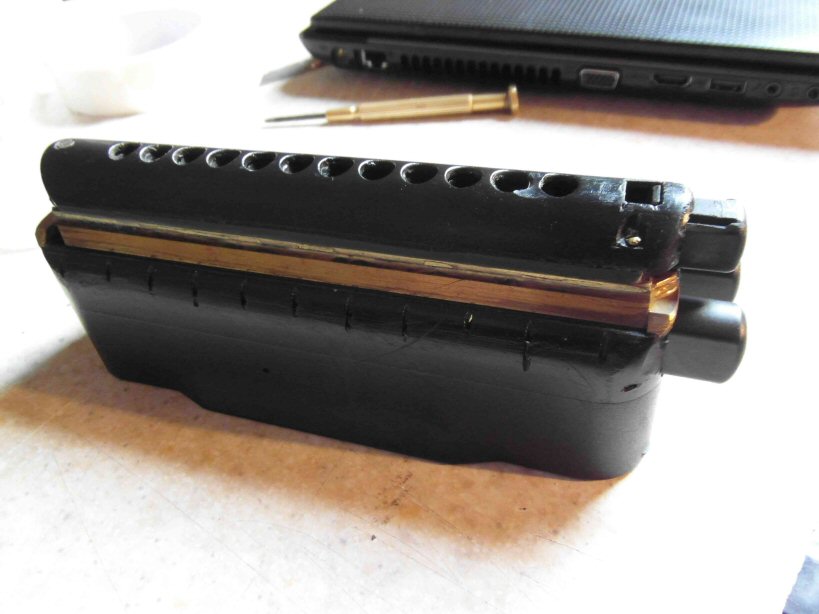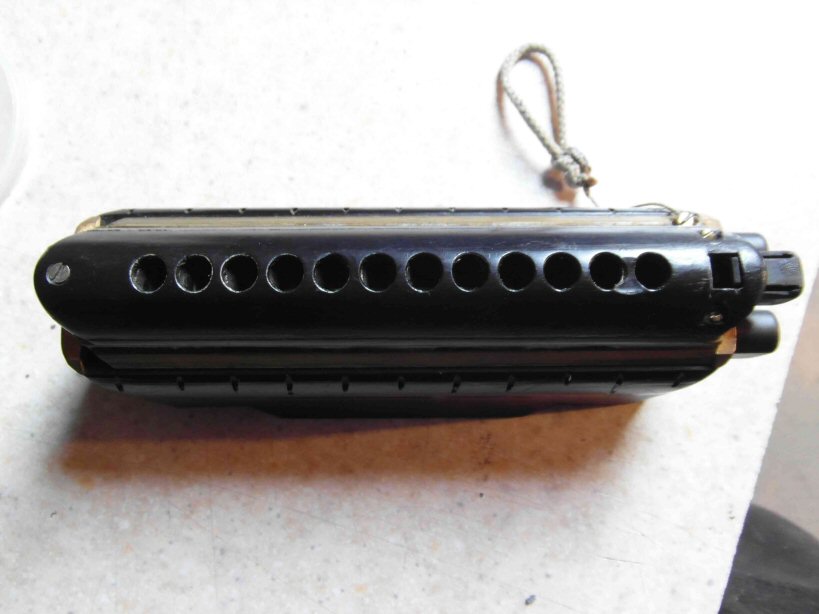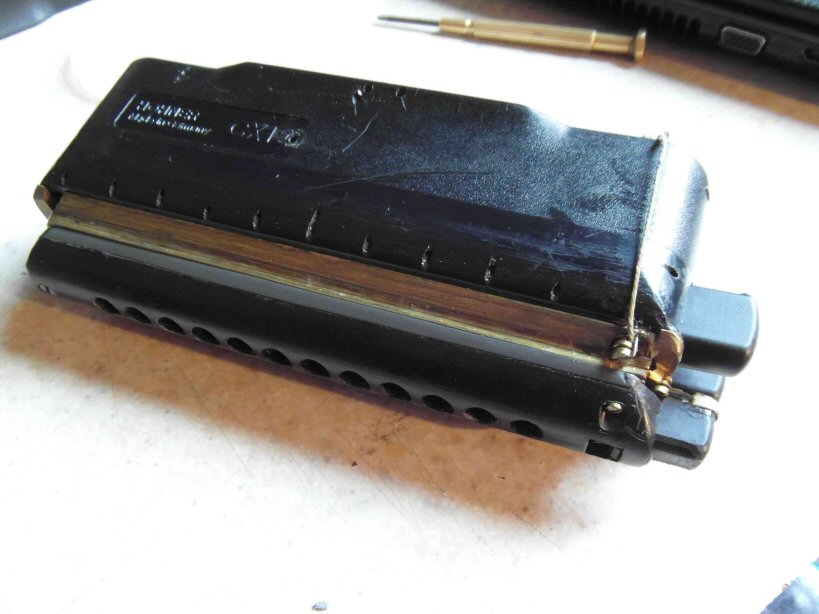 It worked, but not great. Now I have CAD skills, a 3D printer plus laser cutting at my disposal, I have finally been able to realise my dream with a superior patent pending design. Here are five 2014 prototypes.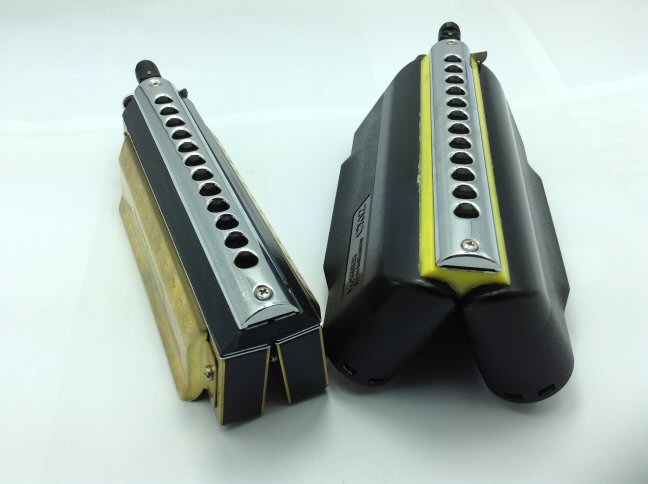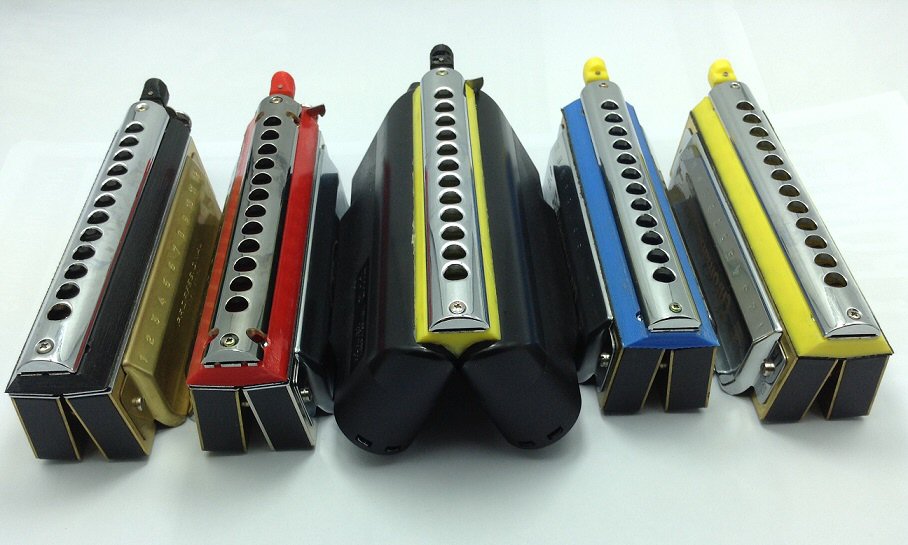 Some POWER HARPS from 2000-2006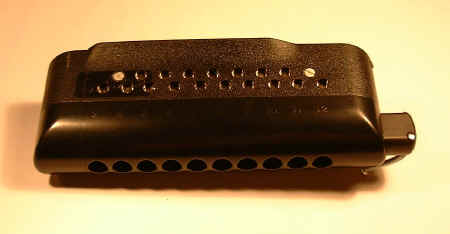 CX10 with Internal Metal Resonators and Slide Hook. A Responsive Blues Chromatic.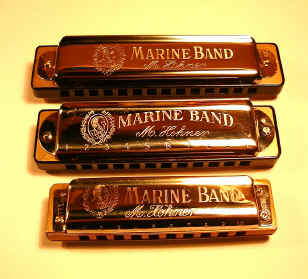 My Custom "Stretch Harps": 12 and 14 Hole models with the same hole
spacing as a standard 10 hole diatonic. At last, a comfortable long diatonic.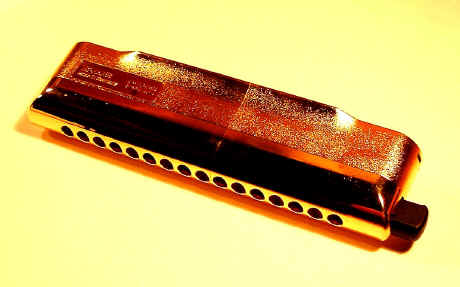 Bling Bling!! Gold Power CX16. All the convenience of the CX12 in a 4 Octave version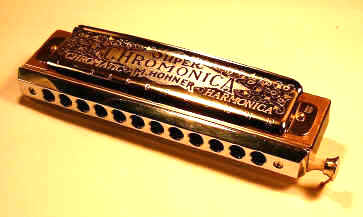 Trad Session Harp: Two keys in once chromatic (mostly D/G), for Irish music. No slider spring.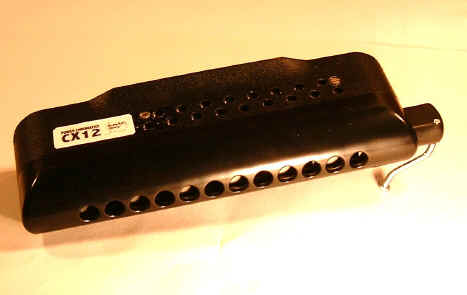 CX12 With Drilled Covers, Internal Metal Resonators and Slide Hook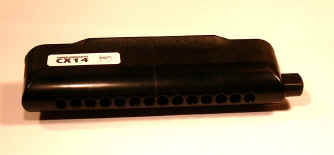 Power CX14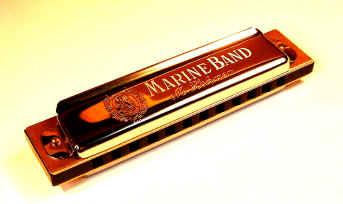 Customised Hohner 364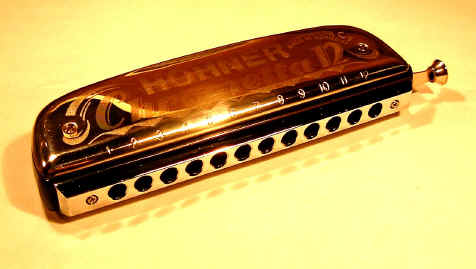 The cheapie of the Hohner range transformed into a Hot Chrometta!!
The PowerBender tuning builds on the best parts of the traditional Richter Tuning, while altering the scale to make the real juicy and important notes much easier to obtain throughout the whole three octave range.
Same familiar breathing pattern in the upper-middle registers. All draw notes bend everywhere, holes 1-10! On the un-valved version you can overblow every hole 1-10, for full chromatic playing. Overdraws and blow bends are no longer possible or needed on a PowerBender - they are replaced with simple draw bends. On the half-valved version, a mix of normal draw bends and valved blow bends gives full chromaticism. Top octave easy to play (intuitive) as many familiar phrasings can be adopted from the bottom octaves Easy to play in the common positions: 1st, 2nd, 3rd, 4th, 5th, 6th, 11th, and 12th
Check out these videos playing in many keys and positions:
If you're interested in a fresh sound on the 10 hole diatonic, LOTS more bending expression and easy jazzy playing, the PowerBender is a good choice for you!
HARP OPTIONS: You can buy my inexpensive own-brand model in a few keys, a quality Suzuki Harpmaster PowerBender in key A only (while stocks last), or you can buy a Seydel PowerBender with stainless steel reeds in any key, and with half-valving option too!
Suzuki Harpmaster POWERBENDER in A
This is from a single batch that was made for me in the
Suzuki factory in Japan. Free blowing and responsive,
it gives you the PowerBender tuning plus Suzuki's
renowned reed life and quality construction.
No more of these will be made, so buy now while stocks last!

£48 (Trackable International Postage is included in the price)

Introductory POWERBENDER Book/CD and Suzuki Harp Package
This gives you everything you need to master the expressive PowerBender tuning as quickly and comprehensively as possible. Along with the Book/CD you get the excellent Suzuki Harpmaster PowerBender harp in the key of A. Since ALL the book/CDs info and exercises refer to an A key PowerBender, this is the only harp you need to complete the course. BONUS: I will also email the tab and notes for playing "Sweet Georgia Brown" on the PowerBender.
The best option if you're new to the PowerBender!

Trackable International Postage is included in the price

Suzuki Harpmaster PowerBender, Book, CD: £60
Own-Brand POWERBENDER Harps
From October 2014: G, A, C and D available (Low F out of stock)
I have PowerBenders in a range of popular keys made by currently the best Chinese manufacturer of 10 hole diatonics. They use advanced reed-welding technology, which means their reed/slot tolerances are substantially better than earlier Chinese harps. Combined with a smooth comb and ergonomic stainless steel covers, my new own-brand PowerBender harps are very responsive and comfortable in the mouth.

Own-Brand PowerBender: £36

Trackable International Postage is included in the price
POWERBENDER Book/CD Only
If it's your first order I strongly recommend you get the book/CD, as it goes into a lot of detail
about how to play the various positions and gives examples of tasty licks plus backing tracks in different positions to play over (check out the
text and music samples
44 Page Instructional Book with 86 Track CD: £27.50

Trackable International Postage is included in the price
Check out the YouTube Video to hear my new PowerBenders in action.
Check out the Philosophy behind the POWERBENDER and see the Tuning Diagram.
See Music and Tab from the 44 page Book for Sixth Position
Hear two Instructional Clips from the CD for 5th Position
---
BUYERS' COMMENTS
" Hi Brendan, The harps arrived, thanks. I am really excited with your tuning, especially the OB possibilities !!!! I'm finding so many cool lines that appear effortlessly with the PowerBender. It's going to take a while to really play my thoughts in 12 keys but it's totally possible with this tuning. The Manjis are very OB friendly without much effort, i'm liking them. You really have something special here - great work! Its brilliant - I think its going to be around for a long long time after we're gone. "

MIKE STEVENS: Renowned Canadian Pro Country/Bluegrass Player (Owner of 14 Manji and 22 Filisko PowerBenders...)
---
" I got the book & CD today - My first impression is that this harp tuning is your masterpiece! The booklet really helps to make the tuning understandable. I decided to treat myself to a harmonica that you worked on.... "

RICHARD SLEIGH: Premier Harp Customiser and Player, author of the excellent tech book "Turbocharge Your Harmonica"
---
" Brendan Power's PowerBender tuning changed my mindset on altered harps. I acquired one the day after SPAH and even though I was 100% harmonica'd out, I found the PowerBender to be a fresh sound to my ears. I spent over two full days playing with it and it's the first altered tuned harp that allows me to play what I hear in my head. I love that my signature 11-12th positions riffs are all available on this instrument via 2nd position. I love that all of my neo-soul, funk, jazz and blues lines are available within one comfortable position. Of all the special tunings, I've tried, which is most, Brendan has simply nailed it with this one, this is the tuning that really works and to me is the most practical. "

CHRIS MICHALEK (BUDDHA) R.I.P. Influential Player/Teacher, and maker of the respected "Buddha Harps".
---
" I really like it and think it's a fun tuning. Not only does it work well for bluesy licks, but you can also use it to play melodic songs in 2nd position which would otherwise require country tuning, or valves "

TODD PARROTT: One of the Tastiest & Most Accomplished Overblow Players Around Today.
---
" PowerBender is awesome, Brendan!! "

JOE SPIERS: Jason Ricci's Favourite Custom Harp Maker - need we say more...?
---
" Brendan i got it!!! Awesome man! Just started but can achieve all bends. I'm not an OB man so this is great! I know it will be widely accepted. You are a renaissance man! "

GARY HILT, Lafayette, INDIANA, USA
---
" Hi Brendan ! I just received the harp n book. I only play it for a few mins and im so impressed by what the POWERBENDER can achieve. I couldn't express how much i like it and obviously there's still lot of thing for me to explore on this POWERBENDER tuning. i found that i can overblow SO smoothly on the firebreath that you retuned for me... Brendan seriously you are one of the most innovative and best harmonica player out there. You are just amazing !!! I want to Thank you for all of the effort you put into writing this book ... and we all really benefit a lot from you. YOU ARE THE MAN ;) "

CHUAH CHEE THAI: Penang, Malaysia. Check out Thai's Online Harmonica Store
---
" Happy to receive the PowerBender harmonica and the book yesterday. I admit that it takes time to master a new tuning but your book is a very useful guide for me to learn it. The songs from the CD gave me very good impression of this new tuning, how expressive and how 'powerful' it is. It surprised me it can cover such a wide range of position playing."

TERENCE CHAN, New Territories, HONG KONG
---
" Hi Brendan, I started to play the Harpmaster PowerBender and I found it really great; the reed responsivess is high and its full bending capabilities a real plus; now I am concentrating on first and second position and I found that the 1st position middle octave licks become alive; no OB necessity to achieve those flat 3rd, 5th and 7th; I am curious to play the 2nd flat position which I find challenging on the Ritcher diatonic. Great work and useful accompanying booklet. "

GIANANDREA PASQUINELLI, Bologna, ITALY
---
" I just found the Powerbender configuration on the Seydel website. I'll be ordering me a C harp to get a feel for the new tuning. I really haven't tried anything other than standard Richter so far, but after seeing what you were able to do with the Powerbender, I think it has a lot of potential for my traditional blues playing. Thanks!"

Excellent West Coast Blues Player AKI KUMAR, San Francisco USA.
---
" So yesterday I got the book from Brendan and I had some time to read it. I tried the 1st and 2nd position examples from there and something clicked - I understood experientially the improved elements of this tuning vs. the richter tuning. I'm a believer! :D Seriously, while I am very accustomed to the 2nd position of the richter tuning, the 1st position on the POWERBENDER kicks richter's ass! And to be honest, the 2nd octave of the 2nd position on PB tuning is also far more expressive and groovy than the richter's. I mean I can utilize the 6OB pretty well nowadays and I can even get the 7OD too, but I can't put so much expression to the playing with that tuning. The 6 drawbend for example brings something that you really can't do with the richter and for my ear that is really nice sound. The micro-tonalities are just superb in this PB layout. The richter seems to have it's advantages too... But when it comes to blues, I have no doubt that PB is far better tuning to learn for that - at least for 1st & 2nd position. So yesterday I had a chance to try out the 3rd position as well. It was just grrrrreat! This tuning with 3rd position is enabling me to get so groovy and sweet melodies that it's is really refreshing to my ears.. I started to jam with the 3rd position minor & minor pentatonic scales and then put some blues scales in there - it really opened up some new possibilities and I felt that I really could hear the "soul" of this position. In this PB tuning my feeling is that at least 1st, 2nd & 3rd positions are all about as easy to play (and they all are very groovy), but the differences lie in where the most juicy notes are.. This is my subjective opinion of course, but I feel that I won't be expanding my richter harp collection anymore but instead I will put my main efforts to the PB tuning. Summa summarum: I just found my new favorite tuning here! :)"

ARI-PEKKA SKARP, Oulu, FINLAND, on ModernBluesHarmonica Forum
---
" You just gotta try one of these out! It's worth the price of admission to just get the intensive practice on bending--all up and down the harp! Just get the book though--Brendan is great to deal with and the CD and little book are invaluable data, great value for the money. I've only been messing with it for a couple of hours today--and I'm sold--I'll be making some more of these babies. I've been in kind of a rut with harp for a while now--this breaks me clear out of it--it's fresh and new and I'm loving it!"

OLDWAILER, Olympia WA, USA, on MBH Forum
---
" I have always approached harp with Rhythm and Melody in Mind, not Blues. First trials on Powerbender have changed all that. I now am really enjoying playing Blues based harmonica. It's so good to be be able to do so with fresh ideas and a creative outlook rather than those tired old cliches. Getting rid of the inversion at 7 seems so natural now. I have always wondered why it was there, seems so obvious what you have done...., now. Its good to have some one go through the positions for me and lay them on paper. Minor 6th is my current favourite and I am amazed at all the fresh discoveries I am finding in so many of the positions and even though I have been playing 3rd or 4th in the past ,so people tell me, I have never fully understood them. Your book has gone a long way to helping me...... thanks."

CHRIS LEE, Christchurch, New Zealand
---
" Hey Brendan! As you saw I already placed an order for my next Powerbender. I can't tell you enough how amazed I am with this tuning. I have been playing it most of the day today and it just felt so natural. Once I got the hang of the new tuning it all just felt so natural. The draw bends are amazing and the extended range without having to rely on overblows is pure genius. I have been having a lot of fun with this harp and look forward to adding many more to my harp arsenal. I will be using it Thursday at the bleus club....and look forward to making sure everyone else is as impressed with the harp as I am. You are definitely on to something. I look forward to ordering many more from you in the future. Regards, "

RYAN 'Uncle Dirty' BANNISTER, Harrisburg PA, USA
---
" Brendan, I've been woodshedding on the Powerbender harp and book ever since I got them. The concept of the tuning layout is a real inspiration. The book is very helpful. I find the harp response somewhat stiff and sluggish for my taste. I am a Marine Band tongue-blocking Blues player. I enjoy some of the new chordal color available. This tuning's inherent sequence of notes helps me create new runs, achieve old familiar licks in a new way and I will continue to learn each time I pick the instrument up. Thank-you for your commitment and service to the harmonica and the music world in general. "

Slightly Bent, DW Gill, Winslow ME, USA
---
" Hi Brendan, I got the A harp and book/cd, enjoying exploring the possibilities on this great layout. The first thing I found was that the G on 7 hole draw bend is perfect for "On The Road Again" by Canned Heat! Thanks for your excellent invention! "

BRIAN IRVING, East Grinstead UK
---
" Hi Brendan, the Powerbender arrived yesterday and I played it a litle bit after listening to the CD. It is a new concept and a fresh style of playing. I like it, it makes me smiling and I need some time to try it more. I don't play Overblows or Overbends, but with this harmonica I have a new sound in my ears. " Thanks and after some experience maybe I will make a short viedeo. "

MARIO HEMKEN, MÜNSTER, GERMANY
---
" Must say that the Power Bender is the best custom tuned harmonica I have played, thanks for the revolutionary design. "

ROSS JACQUES, Orpington, UK
---
" Got the harp today thanks brendan! Gonna sit down and figure it out. I love all the overblows I normally use are now these really soulful and deep draw bends. I also love that feeling of bending those high draw notes. It makes it so much more soulful. "

MICHAEL MURRAY, Donegal, Ireland
---
" My POWERBENDER Harmonica's Play Like a brezze!!! WOW!! It's really simple play by the ear a melodycally tune,no comparison with the Richter... Greats Job Professor Power!!! Thanxx You again, "

FEDERICO PELLEGRINI, Brindisi, Italy
If you're interested in incredible draw bending expression in the top octave whilst retaining all the best aspects of a traditional Richter harp lower down, the PowerDraw is a good choice for you! See the detailed description below.
You can buy my inexpensive own-brand model in four popular keys, or you can buy a Seydel PowerDraw harp with stainless steel reeds in any key, and with half-valving option too. Watch the Seydel Video to understand how PowerDraw works, and how easy it is to adapt to. If you want to try it out and are looking for a responsive low-cost introduction to the PowerDraw, I recommend my own-brand model.
My PowerDraw harps are made to my specs by currently the best Chinese manufacturer of 10 hole diatonics. They use advanced reed-welding technology, which means their reed/slot tolerances are substantially better than earlier Chinese harps. Combined with a smooth comb and ergonomic, bright-sounding stainless steel covers, my new own-brand PowerDraw harps are very responsive and comfortable in the mouth.
POWERDRAW - WHY IT'S SO MUCH FUN!
PowerDraw tuning is a combination of standard Richter (holes 1-6) and PowerBender (holes 7-10). The Best of Both Worlds! It's easy to learn because:
The bulk of the harp (holes 1-6) stays exactly the same as normal, so there is no need to re-learn anything in that comfortable range you're so accustomed to.
The breathing pattern of holes 1-6 (blow reed low, draw reed high in each hole) is retained all the way up to hole 10 on the PowerDraw! This gives the top octave an instant feeling of familiarity to anyone who tries it, because the techniques and riffs that work so well lower down work up there too (click on "Tunings" tab in GEEK ZONE above to see the scale).
Simplified Technique: There are no blow bends and no overdraws needed in the PowerDraw tuning. Two of the most important 'blue' notes in 2nd position (the flat third, which was overblow 6) and the flat fifth (overdraw 7) are now simple draw bends on holes 7 and 8: the octave-up equivalents of the familiar draw bends on holes 3 and 4.
Every draw note bends from hole 7-10, soulful and easy! That's right - you can now really WAIL up high on your harp! Plus, in un-valved setup, every hole overblows for chromatic playing, and the upper octave overblows are much easier than the overdraws necessary in Richter tuning.
PowerDraw works well with the octave-playing approach of tongue blockers. The notes in the top octave are similar to Richter, but the intervals are slightly different. Octave splitting is actually easier, because both blow and draw notes have a 5 hole split above hole 4. See the video for a demonstration.
PowerDraw is ideal for Second Position, but works works great in many other positions too, especially Third (nice useful bends in the top octave), Fifth (good expression in the top end), Second Position Minor (no need to overblow to get the flat 3rd ), Eleventh and Twelfth (great expression in the top octave).
If you're comfortable playing in holes 1-6 on Richter diatonic but fnd the top octave difficult, the PowerDraw is a great choice for you. Just top off with the logical breathing pattern and incredible wailing expression of the PowerBender on holes 7-10. It's a win-win!
You can buy a high-quality Seydel PowerDraw harp with stainless steel reeds in any key, and with half-valving option too.
The ChromaBender is a brand-new harmonica never seen before, one of my inventions dating back more than 20 years but only now available to buy. It combines the best features of the 12 hole chromatic harmonica and the 10 hole diatonic to create a unique hybrid harp that will appeal to players of both types.
| | |
| --- | --- |
| | Below you can order the Chromabender (£140 including Trackable International Postage) |
The ChromaBender has the outward appearance of a chromatic but sounds like a diatonic! Its parts (covers, comb, reedplates and mouthpiece) and standard Solo tuning come from the chromatic, so chrom players can play it straight away. But the sound and playability is like that of a 10 hole blues harp! Instead of a slider, the ChromaBender uses internal x-reeds and simple draw and blow bending to give you buckets of soul and full, easy chromatic scales over three octaves.
This unique new harp allows any chromatic player to get bluesy without having to switch to a different tuning or smaller-size harp, and it allows blues harp players to get chromatic using their familiar, easy blow & draw bending technique. Many 10 hole diatonic players like to use a chrom for 3rd position playing. Now they can get those big octave tones plus draw and blow bending on all notes!
I designed the tuning and specialist reedplates for this harp, and chose the Brazilian company Hering to make it. Hering chromatics have very close reed/slot tolerances, and that's important for this triple-reed design. In June 2013 I travelled to the Hering factory in Blumenau, Brazil to work with Hering engineers to create this all-new 36 reed model. Initially only available in C, it now comes in 6 keys: C, D, F, G, A, Bb.
The ChromaBender will open up a whole new harmonica sound as players from both the chromatic and diatonic camps bring their own experience and strengths to create a unique hybrid sound.
(Hear Sound clips recorded on the C ChromaBender by Al Clark & Randy Weinstein. Check out Randy's interesting discussion of his experiments with the ChromaBender: Randy's music.)
BUYERS' COMMENTS
The ChromaBender harps arrived yesterday. I spent about an hour with them last night. Since I had arranged to take a long over-due day off work today I spent three hours working through some exercises and then played with friends on fiddle, whistle and guitar. Well I could go on for a while but the short of it is that this D may be the best harmonica I've ever touched. The G will need a little tweaking on the 3 and 4 draw so I've downloaded your videos to try that for myself. But this D is just amazing. I love playing whistles but this harp is going to get equal time.

Thanks brother. These are really special.

Michael Hawke, USA
---
" I have had the ChromaBender for a couple of days now. I really enjoy trying to work out new phrases. It's like learning to play a harmonica all over again (I'm a Diatonic player only, until now). The different tones and bending notes really makes playing this harp fun, and possibilities are endless. You got a lot more than just a normal chromatic. This is really going to be to good. My feeling is that it's going to be a seller. Can't wait for more keys to come out once you really get going. Thank You. "

Jack Casey
---
" It arrived this morning and is FANTASTIC!
... I am mainly a chromatic player - a pale imitation of Toots and Gregoire!! The Chromabender is the most exciting harp I have played for ages. And it is beautifully made and weighted.
All the best. "

Adam Craig
---
" Hi Brendan I received the chromabender today . I love it! As soon as I opened the case I played samba pa ti by Carlos Santana then tried some simple blues and pentatonic scales and all the notes are here. This harp and your other innovations are fantastic additions to a world ruled by purists and technical elitists.Please continue to breathe new life into the harmonica.I hope more people will support the advancement of your x-reed tech and usher in the new age of incredible out of the box harps. "

Raymond Delekta
---
" The ChromaBender is a wonderful instrument. I enjoy playing it.

To be a little more specific, after playing the ChromaBender over the last week I can say, historically, it is the first real attempt to address the challenges of chromatic harmonicas. There are no uncontrolled air leaks making bends so much easier and the full spectrum of notes are playable especially at the high end.

It's the first harmonica (both diatonic or chromatic) I thoroughly enjoy playing without complaint. "

Bryan Ferguson (owner of three ChomaBenders!)
---
" Letting you know the ChromaBender has just arrived. First impression is how little air is required to sound all the notes. The reed tolerances are very tight indeed, as mentioned on your web site. Thanks for another wonderful creation to join my arsenal of three SUB30 Ultrabends and one PowerBender! "

Pete Marks
---
" Cher Brendan;

J'ai bien reçu votre nouvelle merveille "ChromaBender" ce matin et je suis enchanté vraiment par la qualité de vos réalisations;je vous remercie encore une fois du fond du coeur.

C'est une réussite!excellentes continuation!

Cordialement. "

(I received your new wonder the "Chromabender" this morning, and I am truly delighted with the quality of your accomplishments; Thank you once again from the bottom of my heart. It is a success! Keep up the good work!)

Jean-Luc Demoulin
The G/D Irish Session Harp is a revival of a harmonica I created for my own Irish playing in 1995. I sold it on my website from 2000-2006 (it was then known as the 'Trad Session Harp'). Now it's available again, re-named, and in two sizes/tunings.
The slider has no spring, and is held in or out with friction. With the slider out the harmonica plays a low D scale in Solo Tuning. Press the slider in and you get a G scale. Two harps in one, G and D: perfect keys for 90% of Irish and Celtic tunes!
I have two versions of the Irish Session Harp: 12 Hole Solo Tuned, and 10 Hole in Paddy Richter tuning. Both are great for Irish music, but the 12 hole on this page will suit chromatic players better, the 10 hole will suit diatonic players more. If you're a diatonic player, go to the Paddy Richter version.
The common way to play Irish tunes is in sets: several tunes one after the other, often with pleasing key changes between them. Normally harmonica players have to switch harps at that point, but having an Irish Session Harp means you can play most Irish sets on the one harmonica! Just move the slider to the opposite position with the flick of a finger and you're in the new key - it's so easy and fast.
Made to my specifications by Hering, the Irish Session Harp is very responsive and easy-blowing.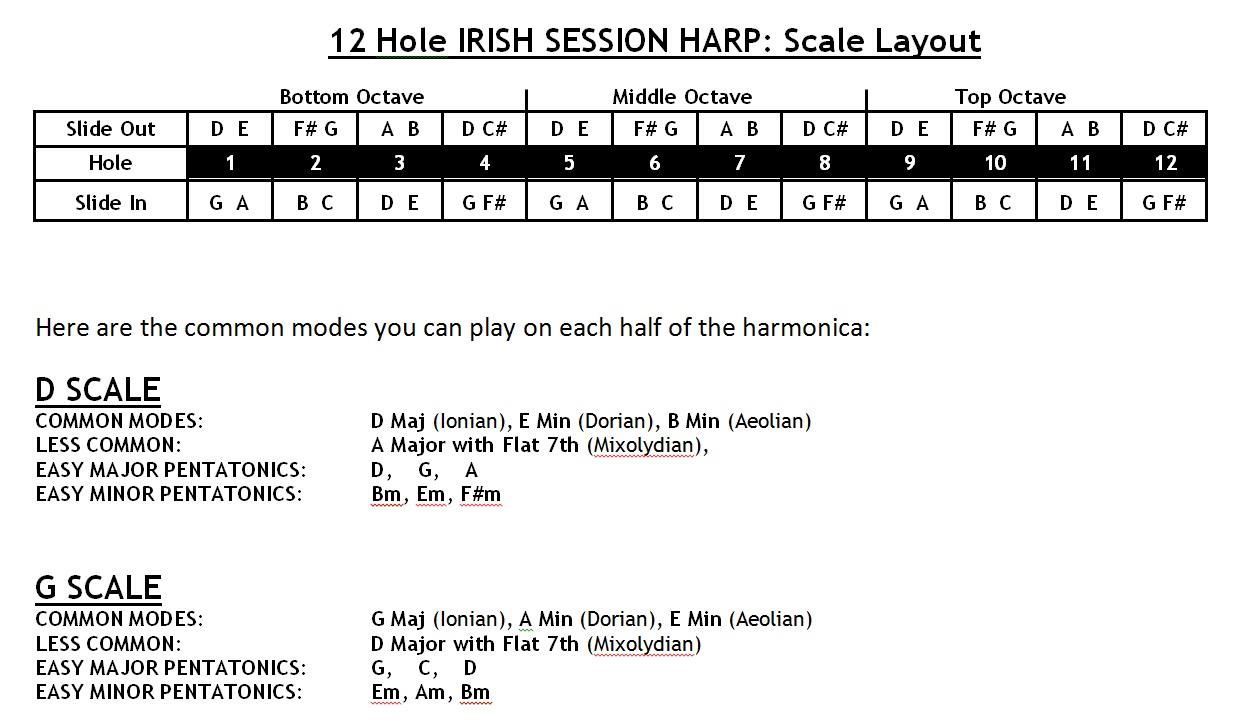 Here are some handy tips to fix sticking valves and enhance airtightness on your slider harmonicas.
The Slide Diatonic is another of my harmonica inventions. I first recorded with it on my 1994 album
New Irish Harmonica
, and I've used the Slide Diatonic for all my traditional Irish playing ever since. It's now available for the first time to buy, and only on this website.
The Slide Diatonic comes in the two main keys for Irish music, D and G, as well as C (New! see below). The 12 hole is in Solo Tuning (same as standard chromatics), but I have a Paddy Richter 10 hole version also (both Solo and Paddy Richter are equally good for Irish music).
I now have a NEW VERSION of the 12 hole model (May 2015). It's really airtight and comfortable in the mouth, with a smooth slide action. Please check the video below to see the Mk 2 version, and check the earlier video for the Mk 1 model to hear how easily and sweetly the Slide Diatonic adds in-key decorations to the main melody. All the slide decorations are identical in the Mk 2 model, with the added benefit that you can remove some outer valves for extra bending if you wish (demonstrated in the Mk 2 video).
The Mk 2 model also comes in the key of C, as well as D and G. It will suit players who prefer to use C chromatics normally, as well as add an extra useful key for the G/D players.




Buy One Slide Diatonic in G, C or D, Postage Included

You really need both G and D Slide Diatonics for Irish music.
Now you can buy the two for a discounted price!




INSTRUCTIONAL VIDEOS with Chinese Jianpu notation, Western notes and harmonica TAB:


The Maid Behind the Bar


The Morning Star


The Maids of Mitchelstown


Playing Three Reels in a Set with Two Harmonicas



PROMOTIONAL VIDEOS:


Mark 2 video link


Mark 1 video link
On the outside it looks like a standard chromatic harmonica, and the home scale with slider-out remains the same. But as soon as you press the slider in, you hear the difference! The slide-in notes sound sweet and tuneful, and slider trills are pleasing to the ear. That's because all the slider notes have been tuned to the home key of the harmonica - hence the name Slide Diatonic. Here is the tuning diagram for a G harmonica:

You can see that the slider raises each note to the next note of the G scale. If you press the slide in on a G blow note, the slide-in note is not G# (as on a normal chromatic harmonica) but A. The same principle applies to all the other slide-in notes.
This gives the player a whole new and more AUTHENTIC sound for playing Irish and other folk music, including Chinese, Scottish, Italian... Most folk melodies around the world stay within a specific mode or scale. Chromatic notes outside that scale tend to sound harsh, because they are inappropriate for the style.
The Slide Diatonic also gives the player lots of enharmonic (same-not choices). Every note of the scale is duplicated in a slide-in note, which allows the player to choose the best option for the music. This can be very helpful in playing fast dance tunes with big jumps.

LEARNING TO PLAY
The 12 hole Solo-tuned Slide Diatonic comes with handy In-Box notes, showing the scales and other useful information. If you want more in-depth playing instruction for Irish music, my existing Book/CD package Play Irish Music on the Chromatic will work well with the 12 hole Slide Diatonic. It gives you all the info and tab for easy exercises and many tunes. Though the CD tracks feature standard chroms in G and D, the slider decorations taught will sound even better on the Slide Diatonic. At some stage I will create a book/CD specially for the Slide Diatonic, but for now that is a very good option.
Here are some handy tips to fix sticking valves and enhance airtightness on your slider harmonicas.
Paddy Richter
is the whimsical name I gave to a simple tuning I devised to play Irish music on the 10 hole diatonic harmonica, first recorded on my
New Irish Harmonica
album of 1994. The standard harp tuning is known as Richter Tuning, the Irish are often affectionately called Paddies... and so Paddy Richter was born.
Along with Paddy Richter tuning, I also invented half-valving on the harmonica (there is more detailed info on both further down the page). Half-valving really helps on harps used for Irish music, because it makes the important blow notes play louder, sweeter and with more soul.
You can order the same excellent Suzuki Promaster MR-350V Half-Valved harmonicas in Paddy Richter Tuning that I use for Irish Music, in all 12 keys (plus Low F and High G). All harps are hand-retuned and have the outer valves trimmed back to avoid sticking.

SUZUKI PROMASTER: Luxury Diatonic
Alloy Comb, Phosphor Bronze Reeds, Half-Valved

video link - Brendan demonstrates Paddy Richter.
Paddy Richter tuning only has one note different to standard Richter, but what a difference that small change makes! On a normal harp, hole two draw and three blow are the same note. I took advantage of that duplication to raise three blow by a tone to get the missing note you normally have to obtain via a tricky draw bend. On a G harp it would raise the D in hole three to E:

This makes a massive difference to the ease of melody playing on the 10 hole harp. Suddenly tunes that were very hard to play lay out beautifully - including Irish jigs and reels. These are played fast, and it's impossible to get that essential missing note (the 6th of the home scale) accurately at speed via bending. Paddy Richter builds it in to the scale as a simple blow note on hole 3. Suddenly the humble blues harp is transformed into an instrument that can easily keep up with flying fiddles, pipes and flutes at an Irish session!
Here's a famous reel, "The Bucks of Oranmore", played on a Paddy Richter harp in D:
Below is a video demonstrating Half-Valving:
I've written a popular Instruction Book with 55 Track CD demonstrating how to play Irish Music on the 10 hole harp, including Paddy Richter instruction and examples. Click the link for more info and check out the comments on the book/CD and ProMaster harmonicas from many satisfied customers.